DUE TO COVID-19 AND THE SAFETY OF OUR DANCERS AND STAFF, OUR STUDIO WILL BE TEMPORARILY CLOSED UNTIL FURTHER NOTICE. IF YOU HAVE QUESTIONS, PLEASE CONTACT US AT 757-790-0479.
We thank you and hope you are safe and healthy!
Welcome to En Pointe Dance Academy!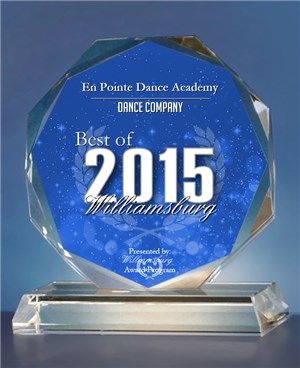 Thank you for visiting our website!
Located in the Norge area of Williamsburg, VA. En Pointe takes pride in being a small local business that focuses on the technique and growth of a dancer. This award winning company provides a warm and loving environment for our dancers to grow and learn in. We offer dance class for ages 18 months and up, such as Ballet, Tap, Jazz, Hip Hop, and more to come! Dancers will get the opportunity to perform in our annual performances and more! En Pointe Dance Academy also offers great classes for adults and seniors, including Hip Hop and Tap! These classes are held on a month to month basis! Visit our "Classes" tab for more information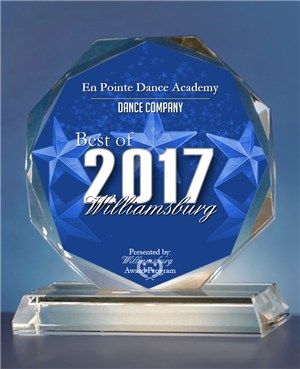 "En Pointe Dance Academy has changed Camila's life and mine too!! I still remember the first day walking around with lots of questions and concerns, and there she was! Our sweet Rebekah always brightening the room with her smile. We really love the dance studio. Rebekah and all the teachers are very professional, but most important, good people. I highly recommend EDPA, a place filled with happiness!!" ~Mariel and Camila
"I can't begin to say how wonderful this studio is! What a gem in Williamsburg! The owner , Bekah, has been a dancer her entire life not to mention she has a heart of gold! She not only teaches her kids how to dance, she teaches them respect and to take pride in everything they do! What more could a parent ask for! I give En Pointe Dance Academy 10 stars!" ~Tiffany
"This is the best place ever!! My kids and I love it!!!" ~Katie
"We love EPDA! My daughter takes Intro to Ballet and looks forward to going to class every week. The staff are very friendly and great with the little ones! The owner has been a dancer her entire life and has so much knowledge and choreography but most importantly her passion is evident in all that she does. I'm very impressed with what this studio has accomplished in a year since opening and wish it the best of luck! I love to support small local businesses! This is a great studio for your children and we are excited to start our dance journey here." ~Jessie